On our guest table discover the flavors of the Basque Country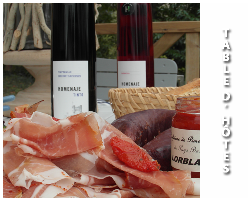 Upon arrival, enjoy a champagne aperitif accompanied by foie gras on toasts. You can extend this delightful moment by mixing hot and cold bubbles by relaxing in the spa.
To enhance your stay, discover our "paletas" inspired by local flavors during your romantic dinner :
Paleta Homard & Seafood:Complete meal for 2 persons with a seafood platter accompanied by "Tarriquet 1ères grives" and ending with a local pastry, rich in flavors and taste. For 2 persons the seafood platter consists of: 2 ½ homards , 8 langoustines, 12 prawns, 12 welks, 8 clams, shrimps and 8 Oysters. Surprise-pastry and coffee.

Paleta Foie gras & regional products : Complete meal for 2 persons with a terrine of "foie gras mi-cuit " 200 grams, ham from "vallée des Aldudes", dried sausage, chorizo from Aldudes ( spicy sausage), dried or smoked duck breast, duck breast with duck foie gras, duck rillette, sheep and goat's cheese, Surprise-pastry and coffee.
With Marosenia Ttiki you can customize your stay, you will find this option during booking depending on availabilities and coaches.