LE BUNGYPUMP OR NORDIC WALKING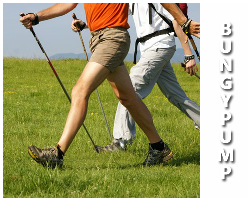 The BungyPump is an active walking activity that is practiced outdoors (beach, coastline, mountain, forest ...). It strengthens the muscle groups of the body and effectively improves the physical condition simply by walking, helped by sticks with pump system which absorbs vibrations. Enjoy this experience in a unique setting with Jade who will guide you in this fun and tourist practice on the Bay of St Jean de Luz and around Lake St Pee sur Nivelle.
An ideal sport for fitness !
Marosenia Ttiki you can customize your stay, you will find this option during booking depending on availabilities and coaches.